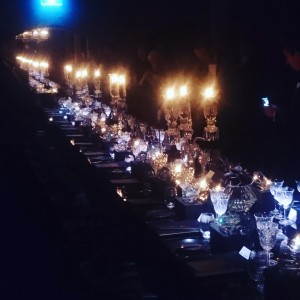 October 2016
Last week saw the release of the Penfolds 2016 collection at a Tasting and Gala dinner at the newly renovated Magill winery in Adelaide. It was a very grand event with everything from modern dance, a traditional welcome by didgeridoo and a splash of Hollywood glam by way of Sam Neil, not to mention the unveiling of the ridiculous $185k French cut crystal Grange imperial decanter.
Yet for me it was the wines that really shone. As a collection there was a remarkably high quality across a range of styles. The whites where crisp modern blissfully balanced Chardonnay and you can see why the likes of the reserve bin A and the Bin 15A have had so much recent success in wine shows.
The reds also where very well balanced. The multi region Cabernet 407 was dense bright and ripe with oak playing an important but supporting role. The Bin 389 2014 which this year is almost 50:50 Cabernet Shiraz was showing all of its ready-to-drink charm.
But for me the wines that stole the show where the St Henri 2013 and the 2014 RWT, both are very different wonderful examples of Shiraz. The Magill is reminiscent of elegant Northern Rhone. Pure fruit-driven power without the cover of new oak. The wine is vibrant and elegant
The RWT which has now taken the Bin number 798 from the telephone keypad for 'RWT' is a great example of Barossa Shiraz. 100% French oak 70% nee, yet still fresh and vibrant. The fermenting wine in barrel, is taken off skins before the ferment is finished and the result is a wine wrapped in oak tannin without the oak dominating. Delicious!
Covering three quite different vintages in 2012, 2013 and 2014, and wine sourced anywhere from Margaret River to Central Victoria although predominantly Barossa, you can understand that the styles of wines released where reasonably broad. Yet despite the different styles each achieved a nice balance.
The Grange 2012 is also very good a wine that fits in well with this iconic label. Yet for me the story of the 2016 collection is that the full range of Penfolds has never been better – well led by it icon in Grange but with some very well made world class wines as it's stablemates.
Alex Wilcox